Sometimes, it feels like life is simply a series of things to do. From tasks to finish to appointments to go to something you have set as goals, there are all sorts of things that can go on your list of things you'd like to accomplish. Sometimes, it can feel impossible to complete it by the end of the day.
However, getting these things done isn't impossible if you organize your lifestyle correctly. To be more productive, sometimes all it takes is knowing where to start. Here are some of the best ways to increase productivity and get more done in your day.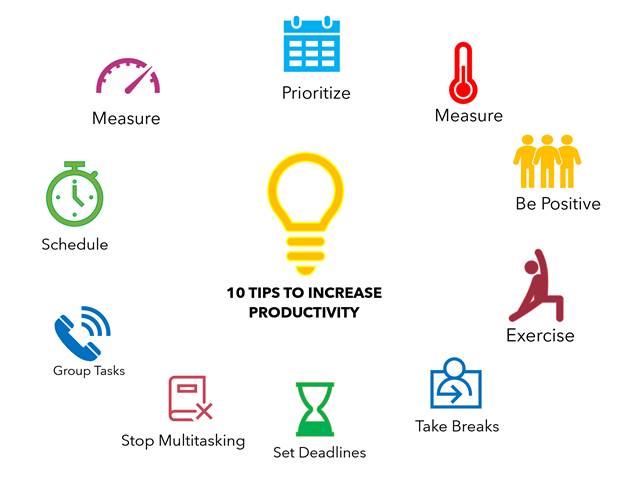 Create a Schedule
Without order, your schedule can be affected. It's important to try to write everything into your plan if you want to get it all done. This means creating a time slot for everything in your program, even the mundane things you may not think need to be slotted in.
However, the more you schedule everything from mowing the lawn to taking a shower, the more you will be motivated not to take as long as getting these things done. Knowing you only have 20 minutes to complete a task encourages you to stay focused and keep working. Even getting something done as many as 5 minutes earlier can add up over your day.
RELATED ARTICLES :
Wake Up Earlier
Unfortunately, you can't add more time to the clock, but you can count how much time on the watch that you use. Waking up even one hour earlier each day to get things done is a great way to stay productive.
Write down all of the things that you would like to accomplish but feel that you "don't have time." Then, ask yourself whether you could get any of it done early in the morning. You may be surprised that this morning time will greatly boost your productivity.
Put Away Your Phone
Most people admit that their biggest reason for not being productive is being on their phone. Once upon a time, a phone was only for making calls and sending messages; however, now it's filled with all sorts of capabilities and distractions,makinge it almost impossible to put down for many people.
Sometimes, the best way to eliminate this distraction is to put your phone away entirely. Turning it off or putting it in a drawer will ensure that you are much less likely to use it instead of working. Try to be strict about this, and then you can reward yourself with something.