The world has evolved digitally, from sharing your thoughts with friends on social media to uploading videos online. Everything is possible. Have you used the latest Facebook feature called "Facebook Live?" The concept has been copied from other services. Currently, it is known as the BonkLive Streaming App! Broadcast is a tool that allows you to broadcast live-streaming videos and watch other videos. By logging in, you can promote Live Streaming videos online.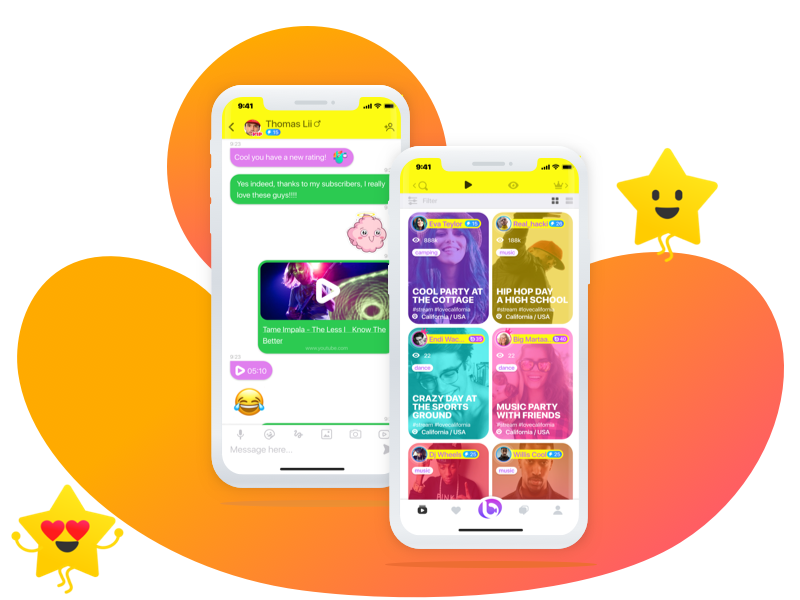 BonkLive runs on powerful servers, which is fortunate for those who prefer Quality over Quantity. BonkLive is one of the best social media platforms for broadcasting and advertising your content online to Millions of people. You can promote your Skills, Brand, Products, and more to millions of individuals worldwide.
The magical journey can start with a regular app vlog of your cooking show. You can also make money from the rewards, so you will be compensated for entertaining and teaching viewers worldwide. How does it work? Let me take you on a short tour.
BonkLive Live Streaming
The Bonklive interface is easy to understand if you have tested Twitter or other social media apps. If you use an Android smartphone for the first time, we will guide you through the step-by-step process.
#1 Installation and Setup
Launch the Google play store and search for the BonkLive app.
1: The file size of the Bonk Live is 36.30MB, to be exact. After the installation, the total size occupied in your internal smartphone storage is 71MB.
2: The setup duration is below one minute.
3: When you launch the installed app, you must have an account on BonkLive to continue using it. You can create it by Signing up from below or using your Social networking sites.
READ MORE:
I recommend you go for the Social Network login because it's easy and efficient.
4: In my case, we have selected Google to log in, and you must choose the account. (if you have multiple emails connected to your smartphone, you will find them on the list.)
5: Be patient.
6: Now you are ready, tap "Next" until you can see the dashboard.
#2 Find a Nearby Broadcaster
Instead of watching a random video, you can target a particular location, like your Country, and watch relevant videos from your Country. Protecting someone from your Country and helping you understand Cooking, Gaming, Motivational talks, and more is always exciting.
1: Launch the app from the Menu.
2: On the top right, you can find "Nearby."
3: Now, you must select your Country from the long list to find broadcasters around you. Which is exciting.
4: Tap on the "Choose your country."
5: A list of countries will pop up, and you must select your Country in Alphabet order.
6: If any broadcasters are streaming Live, the list will appear as "No Items."
7: Don't be disappointed; come back later to check again.
Why don't you be the first steamer?
#3 How to Broadcast Live Streaming
You must follow the above steps before proceeding to the Streaming Live.
1: On the homepage, you can see the big green Bonk logo; tap on it.
2: Another page will show up, and select the Country.
3: Type in the "Title," Country (In case you have not followed the #2 step), and Select the category (It means what topic your is Live stream about, and you will find several options.)
4: Re-check and Tap on the "Go Live."
5: Your live video will begin to Broadcast.
#3 Follow, Featured, and New
Follow: You must start following at least one or two to experience the Broadcasters. In the following tab, you will find Following Broadcasters.
Featured: On this tab, you can find tons of Quality and Highly Viewed broadcasters, where you can witness the best of the best on Bonk.
New: As the title suggests, you can find New broadcasters starting up and getting attention from the community. You will also be featured on the platform when you start your broadcast.
Conclusion
BonkLive is a free app that allows you to show your skills, promote your products and brands, and entertain viewers; in return, you can make money through rewards. The rewards come in different forms and shapes, such as Gold, Silver, and Diamond. Each of them has an additional value. Let us know your thoughts about the app in the comment section below.