Power Stop is one of the top brands in the braking world. They sell some excellent brake pads, rotors, and calipers. Many people turn to them for their high performance brake kits. Whether you want one of their Power Stop Z23 Evolution brake kits for track use and aggressive driving or their Z36 Truck and Tow kits, you will be happy with your purchase. These are some of the best features offered by Power Stop brakes.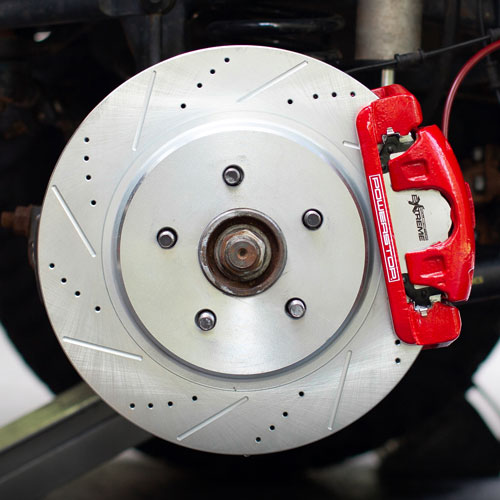 1) Carbon Fiber Ceramic Pads
Many of their models are designed with carbon-fiber ceramic brake pads. These pads offer excellent friction and stopping power. They can help you stop on a dime. Plus, they are excellent at dissipating heat. If you are braking regularly or otherwise heating your brakes, you won't experience fade. They are highly popular for track use.
2) Drilled and Slotted Rotors
Brake rotors deal with a lot of heat during frequent hard braking. They need to be able to dissipate that heat efficiently. Drilled holes or dimples and slots help them to disperse heat more quickly. These features allow any dust or gasses to escape with relative ease. They are also slightly lighter than completely flat brake rotors. While this is a minor weight saving, every ounce of reduction counts on the track.
3) Complete Kits With Calipers
If you want a brake kit with calipers, many of Power Stop's products will work perfectly for you. Calipers are the actuating part of the brake. So, having high-quality calipers is essential for performance braking. With the right kit, you can upgrade to better rotors, pads, and calipers. You will have everything you need to transform the way your vehicle brakes truly.
4) Easy Installation
Many of the Power Stop kits are designed to be very easy to install. More than one Power Stop Autospecialty brake kits review describes the ease of installation as one of the top reasons to buy the kit. Notably, the kits come with all the mounting hardware you need to be able to install them. Typically, they require no drilling or other modifications. That means that you can confidently install them even if you aren't an expert mechanic. Plus, you won't be potentially damaging your frame.
5) Low-Dust Design
Dust is an important consideration in braking. Stopping a vehicle that weighs thousands of pounds requires a lot of force. That is all generated by friction between the brake pads and rotors. This can cause a big mess and also make your stopping power worse. Fortunately, Power Stop brakes are typically designed with low-dust brake pads. While they are incredibly good at this, they can generate a lot of iron particles while stopping. So, you don't have to worry about this issue.
Order Your Power Stop Brakes Today
Power Stop brake kits have everything you need to increase the performance of your vehicle. Whether you need something for your truck or your track car, this brand has an option for you. Place an order today and see how significant the difference is when you are driving at speed.