Dentures are a great option for replacing your teeth if you've lost a full arch of teeth due to periodontal disease or impact trauma such as a car accident.
And while modern Winnipeg dentures last longer than ever, they still do wear out over time. Usually, dentures last about ten years. Not sure if you need a new set of dentures? Here are a few of the most common signs that your dentures are worn out and need to be replaced.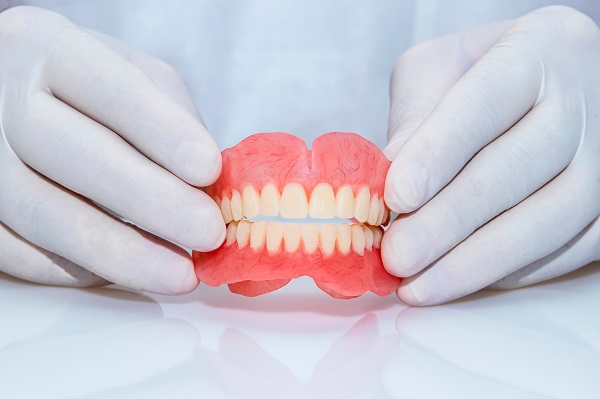 1. You Notice Damage To The Denture
This should be the most obvious sign that you need a new set of dentures. Over time, repetitive chewing can damage your denture, causing cracks, chips, and other damage. If you notice any fractures in your dentures, they must be repaired or replaced immediately.
It would help if you examined your dentures whenever you take them out of your mouth to ensure that they look good and free of damage.
2. It Doesn't Fit Right
If your dentures start to come to loose more often or you feel them shifting in your jaw, they may need to be re-fitted. Dentures often slip and lose a tight fit because of two factors.
First, the wear and tear on the denture may have led to a change in how it fits. The acrylic may have been stretched or damaged, leading to fit problems.
The other cause is jaw and gum tissue loss. This is quite common among patients who have dentures. When natural teeth are removed, the gum and jaw are no longer stimulated, weakening and losing gum and jaw tissue.
Regardless of the cause, your dentist should be able to re-fit your dentures. Typically, you'll only need to replace them in extreme cases.
3. You Notice Sores On Your Gums

This indicates a poor fit and "hot spots" or "pressure points" where the denture constantly contacts one part of your gum, and too much pressure is being placed on this area.
If you notice sores or irritation, you'll want to see your dentist immediately to ensure you can have your dentures adjusted. If you do not see your dentist and this continues, these sores could become infected and cause you pain and discomfort.
4. You Experience Pain While Biting Or Chewing
This could be caused by sores on the gums, improper denture fitting, or gum pinching. Again, pain while biting and chewing is never normal, and you should see a denture specialist immediately to ensure this issue does not continue.
5. Your Dentures Are Affecting Your Speech
If your dentures' fit is slightly off, one of the first things you may notice is a speech impediment. You'll likely sound "slushy" or like you have a lisp when speaking. If you start to see this, you should have your dentures relined, resurfaced, or replaced.
6. Your Dentures Are Stained Or Changing Color
Unfortunately, dentures are not completely impervious to staining. Natural wear and tear can cause your dentures to become stained and discolored, particularly if you are a smoker or you tend to drink a lot of darkly-colored beverages like coffee, wine, and tea.
If your dentures are yellowing, stained, or unsightly, they must be replaced immediately to keep your smile bright and brilliant.
Don't Delay – Get Your Dentures Repaired Or Replaced Today!
Dentures can last years with proper care and treatment, but they must be replaced eventually. And if you recognize one of the above six issues, chances are you're overdue for a replacement!
Avoid pain, discomfort, and inconvenience. Visit your dentist immediately, and get the repair or denture replacement services you need to continue enjoying your life to the fullest!