If you're currently planning your wedding, you know that there is much to consider. From deciding on the perfect wedding venue to choosing which plus size dress suits your wedding palette and style best, you have your hands full. Most brides and grooms plan a celebration that suits them. Still, if you're one of those people-pleasers who has given more than a cursory thought to what your guests might want at your wedding, you may find yourself wondering what millennial guests will be focused on over the course of your wedding event.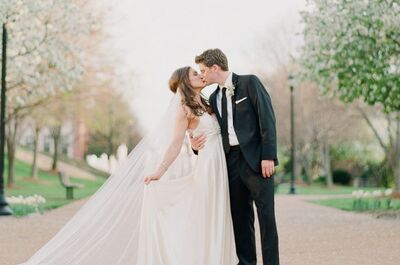 A recent survey at Wedding Wire had some interesting results that may help you plan an enjoyable evening for all. For the most part, millennial guests are all about dressing up, dancing the night away, and having fun in a new place with old friends. But millennial wedding attendees are also paying more attention to your wedding's aesthetics and the overall experience. Here are some tips and guidelines.
Focus on the food.
In generations past, wedding food wasn't expected to be good, and wedding-goers understood that there was a better than average chance of being served a dry piece of chicken or an extra-rare slab of prime rib with some overcooked pasta dish on the side. But millennial guests have more in mind for the evening's aesthetic than banquet food that looks and tastes like it has been ordered and cooked in bulk. Guests are looking forward to finding out what surprising thing may be on the menu and anticipate that the reception will reflect the bride and groom's favorite restaurant or cuisine.
As a result, many couples focus on food bars at their receptions that can feature everything from hot pretzels with various dip choices to hot chocolate with an amazing array of chocolate, marshmallows, and toppings. The reception's main meal is also expected to look and taste like an at-home dinner party or even a favorite pizza or taco food truck service.  Some couples go the extra mile to ensure that the food they serve looks appetizing, tastes great, and meets their guests' dietary needs or preferences who may have food allergies or be vegetarians or vegans.
Balance the bar offerings.
Millennials grew up through the recession when people lost their homes, savings, sometimes everything. As a result, they are more cost-conscious about things. While generations past may have been very concerned with having a top-shelf open bar, this is likely not something that millennial guests expect their friends to spend money on.
Instead, bar offerings are leaning more toward a focus on the couple's preferences. They may choose to showcase one specialty drink they've chosen and then limit the remaining alcohol choices to red and white wine. Couples may also carry the specialty bar idea over into drinks and save money doing a bourbon, whiskey, or martini bar. Some couples may forgo the bar idea altogether and choose instead to have flavored water or ice cubes infused with edible flowers or fruit or develop a milkshake bar. Think about drinks in new and exciting ways, and remember that a pet peeve of most wedding-goers is obnoxious, drunk partiers on the dance floor.
Emphasize the entertainment.
Millennial guests care about their experience at the wedding. Photo booths are becoming standard fare at many weddings, so you may want to consider something different as entertainment for your guests. Artists that do caricatures of your guests can provide a fun twist on wedding favors, or maybe you want to plan for an hour of the reception to allow your guests an opportunity to take the stage with karaoke. Hire a comedian to entertain midway through the evening or set aside space for casino tables to be available.
As part of the entertainment, millennials will expect to dance the night away. Be sure to hire an excellent DJ that can spin tunes from every generation so that all of your guests will find something to love. Vary the music genres, song lengths, and have both fast and slow-tempo tunes. While you may want to play some big band standards or dinner music during service, be sure to have a dance playlist that will encourage your guests to grab their partners. Avoid common wedding music mistakes like sticking to one genre, failing to make a "do not play" list, and having volumes that are either too high or inaudible.
What are some ideas you have for pleasing millennial wedding guests? Feel free to share them here.