Fans are something that we cannot live without during summer. They cool us down and help us to survive those scorching Indian summers. Having said so, it is something we hardly think about unless there is a need. However, in today's time, fans are not just for cooling us down. They have become an integral part of home design and décor these days. While aesthetics are important, checking that the fans operate silently and do not make much noise is important. And that is where the premium fans come to the rescue.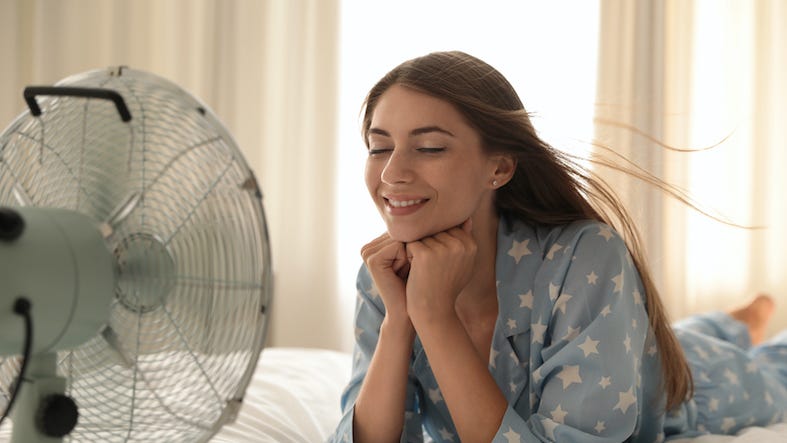 Silence in fans is significant. People usually do not focus much on the nose, which is one of their biggest mistakes. However, if you are wondering why it is important to have silence in fans, then let us guide you through it:
Why is silence in fans important?
We all are surrounded by noise pollution, and there is no doubt about it. And as we are already aware of the fact that noise pollution can damage our eardrums. Hence, it is always good to be in a noise-free environment.
However, when it comes to fans, most of them make weird noises. It is usually due to air cutting and, in other cases, displacement or wear and tear. Although the noise may not seem annoying in the long run, it is extremely harmful, and you should eliminate it.
Noisy fans also interrupt while we sleep. Sleeping is one of the essential parts of our lives, and interruptions may cause serious health issues. Older people often get disturbed by fan noise and fail to get proper sleep. Hence, as a result, serious health issues cause them. This is why you should get a silent fan.
It causes many other issues and disturbance when listening to your favorite music or watching TV. Or having a conversation with someone with a noisy fan is a bucket of issues.
However, the market does not seem to have many options when it comes to silent fans. But thanks to Orient Electric for their Orient Aero Series Fans. You get a noise-free environment along with a premium touch.
Overview of the Orient Aero Series Fans
Orient Aero Series fans come with an aerodynamical design that provides high air delivery of 300 CMM while running silently. The highlight of this range is the recently launched Aerostorm and Aerocool premium ceiling fans.
The fans' aircraft-inspired winglets are designed to minimize the vortex created by air pressure around the fan blades. As a result, these fams run silently along with a powerful air throw to cool you down. The fans come with a sweep of 1320 mm.
In addition, the fan blades are 100 percent rust-free and are made from high-grade glass-filled compounded ABS, which offers strength to them.
The fan has a seamless design and a premium gloss PU finish to enhance the overall aesthetics. This gives the fans a premium touch.
What do winglets and aerofoil design do?
As we know, air pressure at the aircraft's wings makes a vortex and drag. And in such scenarios, the aircraft's winglets come to the rescue by reducing the vortex.
Orient Electric Aero series fans use the same principle. The vortex usually gets created because of sudden air pressure; as a result, we get to see vibration on the blade and air. As a result, it generates noise.
But when there is a winglet, it helps the air with a path to flow from a high-pressure zone to a low-pressure area. Hence, the vortex level lowers to the blades, and you get no noise.
Orient Electric took inspiration from the fans from the aerofoil design of the aircraft wings. Also, the air delivery of the fans depends on the air velocity. You will get a high air delivery if the air thrust is high.
Here is a quick look at the top features of Aerostorm and Aerocool fans:
Top Features Of Orient Aerocool & Aerostorm Fans:
High air delivery of 300 CMM.
The sweep size is 1320 mm.
100% Rust free blade made of grade compounded ABS
Winglet in blade design to minimize the air vortex & noise.
The fans' pricing starts at around Rs 4000, which is reasonable given their design and performance. It is good to know that some brand is paying attention to this latent need for silence.