What appears to be a small dot on the map of India is, in fact, an excellent holiday destination with history, nature, culture, and everything in between. We are talking about Goa, India's premier party and adventure spot. The hordes of domestic and international holidaymakers flocking to Goa yearly are a testament to its popularity. However, most people come to this beach haven, indulge in mainstream activities, explore famous sights, and head home. But there is so much more to try here that often escapes the tourists' eyes. If you plan an extended vacation in the state, check out these offbeat things you can do here.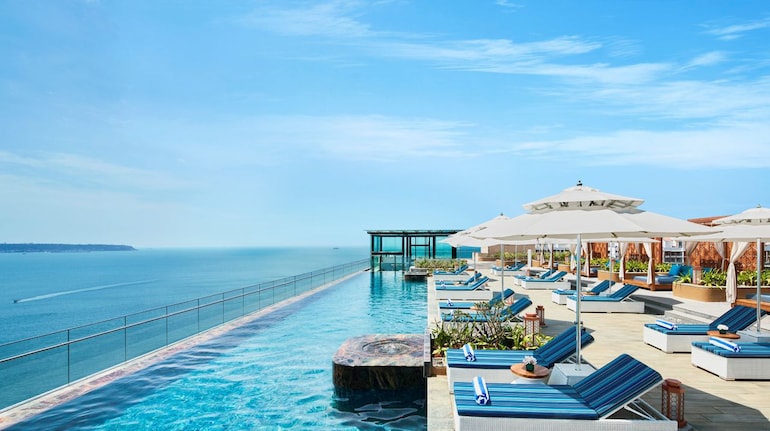 Tip: HappyEasyGo offers you special deals on flight & hotel bookings. Check out the latest offers available on their website and app.
Go Kayaking
Although there are no water sports to try in Goa, kayaking is a unique experience. It allows you to explore the pristine backwaters in the best possible way. Imagine peacefully rowing your kayak over serene rivers and creeks, surrounded by nothing but undisturbed nature. That's kayaking in Goa for you. You can conveniently find tour operators offering kayaking packages in North Goa.
Spot Dolphins
Dolphin spotting is another excellent activity in Goa that is often overlooked for other mainstream experiences. You hop onto a boat near Fort Aguada and head to areas where these fascinating aquatic mammals are frequently seen. Depending on your tour operator, you might even get the chance to jump into the ocean and get drenched.
Explore Caves
Did you know that you can explore centuries-old caves during your Goa trip? There are more than two dozen artificial and natural caves in the state. Even more astounding is that the largest can accommodate up to 1,200 people. The oldest artificial caves date back to the 5th and 6th centuries AD. Locals believe these caves once sheltered Pandavas from the Hindu epic – Mahabharata and call them Pandava Caves.
Trek to Todo Waterfalls
While Dudhsagar Falls is counted amongst the must-visit places in Goa, Todo Waterfalls is yet to receive its fair share of fame. However, this allows you to enjoy an incredible experience without bumping into many other tourists. While the waterfall is a feast for the sore eyes, the journey is a treat, taking you past dense forests, streams, and more.
Admire Wildlife at Mhadei Wildlife Sanctuary
The UNESCO-listed Western Ghats are a treasure trove of biodiversity. You can explore this rich heritage of the mountain range by planning a trip to Mhadei Wildlife Sanctuary. The 208 sq km area is home to numerous plant and animal species you can admire during a tour. Moreover, you can also enjoy hiking and white water rafting at Mhadei Wildlife Sanctuary.
Catch Crabs
If admiring wildlife from afar is not enough, and you wish for a closer experience, opt for a crab-catching tour. Yes, you read that right! Numerous tour operators in Goa offer such packages. You get to set traps using handmade nets called 'kibble'. The activity takes place in Goan backwaters and sometimes at the seaside.
Tour Spice Plantations
Are you ready to take your senses on an exhilarating ride? Then, book a spice plantation tour to find lush, aromatic plantations for various spices. Sahakar Spice Farm and Savoi plantations are two great spots for the activity. It is an excellent option for those who seek to spend a laidback and relaxing vacation in Goa, admiring gorgeous sceneries and the beauty of nature.
Do not limit your tour to popular activities when planning a Goa trip. Take the fun quotient slightly by including these offbeat experiences in your itinerary.