Seoul's traditional and cultural heart is near major attractions such as Bukchon Hanok Village, Jogyesa Buddhist Temple, and a great shopping area. It also offers trendy restaurants and cafes.
For a fun and unique stay in Seoul, try staying in one of the many Hanok homes that can be found in the neighborhood. They make a wonderful place to base yourself during your five days in Seoul.
Myeongdong
Myeongdong is one of Seoul's most popular shopping and nightlife destinations. It is a massive district with a grid of streets filled with street food carts, major shopping malls, and entertainment. The area is always packed with tourists from all over the world and locals.
Popular clothing shops include Mixxo, Teenie Weenie, SPAO, 8 Seconds, H&M, and Zara. Several skincare stores feature popular Korean brands like Innisfree, the SAEM, Olive Young, and Missha.
The area is also home to many ' selfie kiosks', brightly painted small shops that allow you to take photos in booths for a fee. You can also find lots of fun K-Pop merchandise and souvenirs. If you're a fan of cartoons, check out the huge Seoul Animation Centre, which has a front entrance adorned with a large army of cartoon characters. The Myeongdong Nanta Theatre is another great place to see a show that mixes comedy, music, and acrobatics.
Insadong
Insadong is a one-stop shop for more traditional (and sometimes tacky) Korean souvenirs. You can also find fun spots for kids and adults and some unique experiences.
One of the coolest things to do is check out the small art galleries in the area. Many are tucked away and are hard to find without a map, but they are well worth the effort. Some of the more interesting galleries include masks called tal, which are used in dances, dramas, and religious ceremonies.
The self-titled' Beautiful Tea Museum' is also in the area and is housed in a homey hanok. Guests can sleep on a roll-out mattress on the ondol floor or in an upgraded en-suite room. The hotel also offers diverse cultural experiences on-site (extra cost).
Other highlights include the Ssamziegil complex, a modern shopping and culture complex with many smaller shops and cafes. Built-in 2004, it features a spiral walkway and a large courtyard. It's also the place to go if you want to buy some Korean folk craft items, like handmade hanbok pieces and other fabric crafts.
Gangnam
The posh district of Gangnam is known globally as the setting for rapper PSY's megahit song "Gangnam Style." It's also home to many bars, restaurants, and shops that cater to those seeking an upmarket experience.
The district's main thoroughfare, Gangnamro, is a futuristic avenue packed with skyscrapers, high-end shopping, and cafes. It's also the location of the COEX Mall, a massive complex with an aquarium and a convention center.
The upscale shopping district also boasts many gourmet restaurants and trendy bars. From the healthy fare of Granology to the colorful cheesecakes at Cheongdam Food Street, there's something for everyone. The area is also home to a range of boutique hotels, such as Hotel Soulhada, which looks like it costs considerably more than it does with its stylish neutral tones and luxe threads. The nearby Seonjeongneung Royal Tombs are a must-see for history buffs. The tombs are designated as world heritage and were built in the 9th century by King Seongjong.
Gucheongdam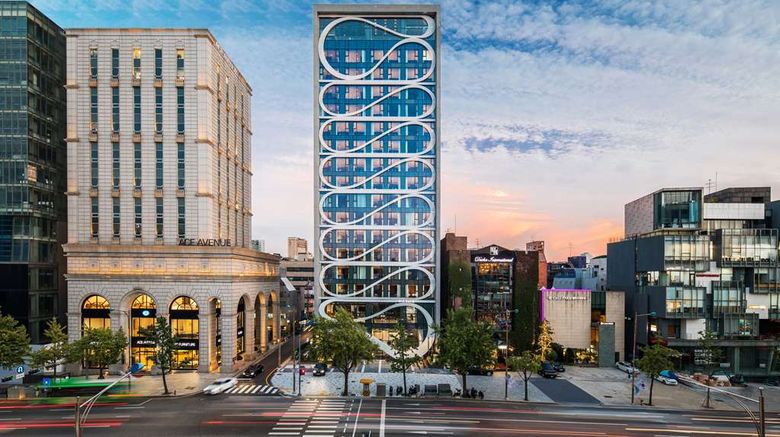 As Seoul's business district, Cheongdam-dong has many office buildings, shopping malls, banks, and hotels. It's also home to the headquarters of many entertainment companies like LOEN Entertainment, FNC Entertainment, Cube Entertainment, and Source Music.
Spend the afternoon escaping into traditional tea houses, or treat yourself to Lotte World, an expansive recreation complex filled with theme park rides and ice skating rinks. For a more intimate experience, head to Ile de Cheongdam for an omakase dinner (reservations only).
In the design-centric neighborhood of Itaewon, you'll find trendy cafes, boutique shops, and restaurants like Plant (a vegan cafe with top coffee) and Humboldt (with a menu inspired by European patisserie Micha Lichter). A visit to the American Corners — part of a worldwide network of public diplomacy centers run by the Embassy — is necessary. You'll find rotating art exhibitions and a rooftop Side Note Club here. The nearby Seoul Arts Center boasts a classical music concert hall and multiple art museums.
Dongdaemun
There is plenty to see and do in Dongdaemun, from shopping to exploring the area's history and culture. It also offers many delicious meals and is a popular place to take pictures of the city's impressive skyline.
The Dongdaemun Design Plaza (DDP) beckons visitors with its neo-futuristic style. Its long, curving lines and sleek, modern features make it an architectural gem. Its rooftop park is the perfect spot to soak up the city's spectacular view and enjoy a cool drink at one of its many cafes.
The Ihwa Mural Village is another highlight of Dongdaemun. It is home to several colorful murals painted by local artists and university students. In addition, it has numerous fortune tellers and is a great place for photographers to get Instagram-worthy photos. It is also the perfect place to relax and unwind after shopping at the Dongdaemun Market. There is also a unique hologram theatre called K-Live for K-Pop fans, which will highlight your trip to Dongdaemun.
Itaewon
One hundred fifty-eight died in a horrific crowd crush during Halloween festivities in Seoul's Itaewon nightlife district. While left-wing political parties and some media outlets point the finger at the conservative government in power, it's unclear how or why the state failed to implement proper infrastructure or safety protocols.
Many witnesses say they were unaware of the disaster unfolding steps away. The dead included more than 25 foreigners, and many victims were young. This failure to take responsibility echoes the state's slow response and attempts to dodge blame in the 2014 sinking of the Sewol ferry, which killed 300 high school students on a field trip.
A new generation of wealthy millennials has moved into Itaewon, where luxury condo towers sit side-by-side with tiny bars and restaurants specializing in non-Korean cuisines. But those local businesses are struggling, and their replacements are often generic franchises or chain restaurants with no personality.
Hannam
Located by the river and Namsam mountain, Hannam-dong is one of Seoul's most prestigious neighborhoods. Its affluent nature has made it the subject of numerous domestic films, TV shows, and Korean pop music. It has also become a popular shopping destination, with upscale boutique cafes and restaurants opening up throughout the area.
A popular stop in the area is Mosu, an upscale restaurant that serves inventive recipes with traditional ingredients. One of its signature dishes is Burdock Bark, which results from a process that involves dehydrating thin slices of seasoned burdock root until they are crisp.
The food here is great at a reasonable price. Try the fried chicken wings, carbonara pasta, or a fluffy omelet for brunch. Another highlight is a mural by the artist Royyal Dog, whose work can be found all over the city. You'll be able to find it by heading down an alley off Hangangjin station.
Hongdae
Hongdae is a popular shopping street for trendy clothing brands, fashion accessories, and skincare essentials. Plenty of cafes and restaurants are open all day – it's a great place to head for brunch on the weekend or even late-night drinks and Korean soup if you're up for it.
The main attraction is a huge street performance area where you'll find locals dancing and singing with each other. The crowd is always massive, and watching the whole thing is so much fun.
We also love the M Playground store with its container park exterior (not real), which has several floors of affordable fashion. The flagship is in Hongdae and has a few branches around town.
The most popular cafe is probably Stylenanda – a pink-themed restaurant with a pool inside for the 10's and 20's. Another cool place to grab a coffee is the cozy Robatayaki Isekai – a Japanese izakaya that's pretty hard to miss with its alluring exterior.
Ikseon
Seoul is a modern city with skyscrapers towering over Buddhist temples and tea houses. Its UNESCO World Heritage Sites include Changdeokgung Palace and Gyeongbokgung Palace. It also has several museums, including the Trick Eye and Ice Museum.
The information technology, electronics, and assembly-type industries dominate the city's economy. Its manufacturing industry includes global leaders such as Samsung, LG, and Hyundai. It is also home to the Korea Exchange, major banks, and the largest food and beverage companies.
For those looking for a different experience, Ikseon is home to an indoor shooting range called Ikseon Shooting Club. The club is popular among the younger generation and can be a great way to relieve stress after a long day of sightseeing. The Ikseon shooting range is located outside Jongno 3-Ga (Sam-Ga) Station, a short walk from Anguk Station. You can find it by walking down the first big street to your right once you exit the station.