If adrenaline is your game and you want to quench your thirst for adventure with an unforgettable hike, you've come to the right place. We'll tell you all about the five most dangerous, deadly, and thrilling places in the world so that you can choose your next adventure.
1. Mt. Huashan Cliffside Plank Path, China
This dream comes true for explorers who want to climb a mountain wall on the most unreliable wooden boards. These planks are bolted right into the cliffside with rusty old bolts and take you to ancient Chinese temples.
You'll find yourself at an incredibly high altitude of 2,000 feet, walking above ground on this sketchy traverse for a few hundred feet. You'll have some chains to hold on to, but only for a while. After that, the chains and the wooden boards disappear, leaving only one way to some stone steps.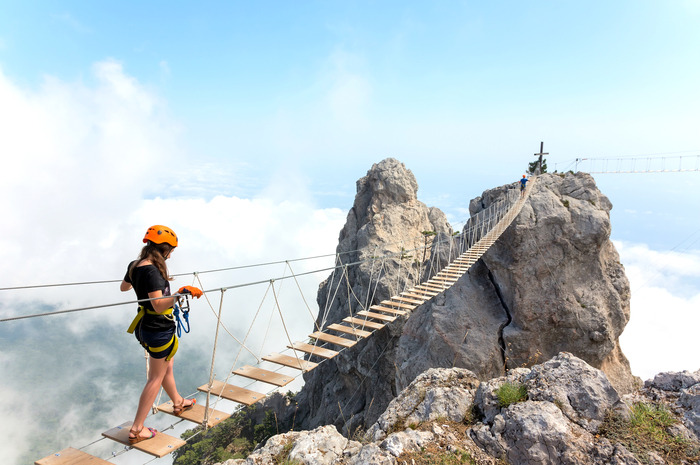 But this hike is worthwhile, particularly if you want to get to South Peak, where you'll see the isolated temples. Don't forget to take the harness offered at the base; you'll need one to ensure you're not falling to your doom. That's not just because of the altitude and the wooden boards; the weather is also your foe, considering how exposed you are to the elements up there.
RELATED ARTICLES :
2. El Caminito del Rey, Spain
A similar crossing can be found closer to home in Europe. The King's Little Road is narrow and will send shivers down your spine if you venture off. We include this path in our most dangerous list for obvious reasons, like the little boards and the high altitude.
You'll need a survival plan here since the 3 feet wide trail is tough to navigate. This trail was built at the beginning of the 20th century for workers at nearby plants. And imagine that these people crossed this trail daily between the two waterfalls of Chorro and Gaitanejo, carrying tens of pounds of materials on their backs.
With only a few feet of the path to secure their steps, they were also 350 feet above the ground with an angry river below. So the river wouldn't have ensured their survival by swimming if they fell. But you still can take some comfort regarding your safety if you think that King Alfonso XIII of Spain crossed this path himself.
3. Taghia, Morocco
A Berber pathway, this incredibly difficult trail is something to put on your bucket list. But don't start this trek without a reliable survival lighter, or you might find it difficult to survive in these mountains.
You'll experience the dangers of an unsteady climb, with abrupt passages, narrow canyons, and rocky paths, but you'll also navigate harsh weather. The heat of the Moroccan days can be overtopped only by high humidity. And if you visit Taghia during December or January, you should prepare for the freezing nights.
There's a considerably low influx of tourists so you can breathe in the solitude of this place. But that makes it even more dangerous if you get lost or hurt yourself. The trails are very high and narrow, so you can't afford a wrong step, especially with the increased difficulty level.
Also, make sure you get lots of water in your backpack since you won't find any water to drink on your way. You'll see pastoral valleys, canyons, and waterfalls, so the views are worth it. The spectacular trail near the side of the cliff, paved with small rocks that meander through forgotten oak logs, will prove quite a challenge, even if there are some cables to help you.
4. Via Ferrata, Italy, and Austria
In translation, the Iron Way dates back to medieval 15th-century Europe but was mostly used in World War I. Various cables and wooden boards are hung a few hundred feet above the ground. And even if they're pretty safe with the carabiners that hold them, there are still the rocky walls and the abrupt ledges you'll need to handle.
The stairs, cables, and metallic bridges pass the cliff area. The difference between a climbing area and a Via Ferrata is that you won't need additional wires since these are incorporated into the trail. Consequently, some even deem these trails safer than a climbing trail. But the truth is that you're more likely to hurt yourself worse if you fall.
However, history makes the journey worthwhile. The Dolomite Mountains were a true battlefield for the Austrian and Italian armies that had to face each other. The cold weather, rock fallings, and avalanches worsened things, so there were some tunnels along the way to help soldiers.
5. Cascade Saddle, New Zealand
This trail is just for experienced hikers, but even if you're one of those people, you shouldn't try it if the weather isn't friendly enough. You'll walk ten hours on the two-day journey from West Matukituki to Dart Hut in southwest New Zealand.
This will take you through an incredible alpine landscape, which is also rich in Maori history. The Maori settlements and many native tribes are still visible on the archaeological sites near the rivers and lakes.
You'll see various beech trees in the imposing forests, volcanic floors, glacial valleys, and rivers. The alpine weather helped the formation of grasslands and fell fields, while the river beds are filled with grass, so everything looks great.
What adventure will you choose?
We've talked about the most stunning, dangerous views that nature has to offer you: from Chinese pathways carved in the sheer cliff to get to the holy temples to the magnificent Lord of the Rings views, you can choose your poison. So where will you go and why? Let us know in the comments.