If you're an avid internet user or a website owner, you've probably come across cPanel. It's one of the most popular web hosting control panels out there. But is it the only option? Not! While it's true that cPanel offers many features, it might not be the perfect fit for everyone. That's why we've compiled this list of the top 11 cPanel alternatives that can help you manage your websites seamlessly and without cost. Please fasten your seat belts as we dive into free web hosting management!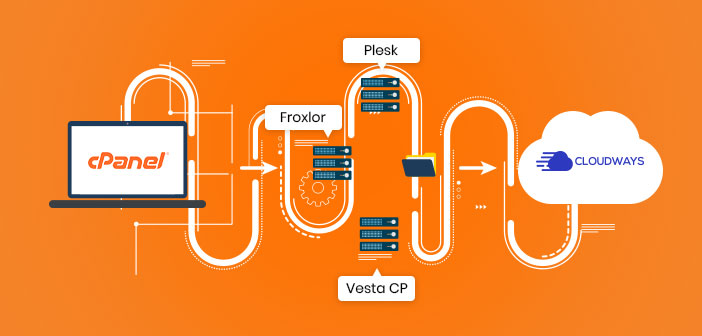 Plesk is a potent and robust cPanel alternative, appreciated by developers worldwide for its flexibility and security features. This versatile platform is compatible with Windows and Linux operating systems, making it a go-to option for many users. Managing even the most complex website tasks is a breeze with Plesk's user-friendly interface!
If you're looking for a powerful and open-source cPanel alternative, look no further than Webmin. This software allows you to manage your website from a modern web-based interface. With Webmin, you can easily handle system administration tasks like managing user accounts, updating packages, configuring DNS settings, and much more.
DirectAdmin stands as another worthy contender when it comes to cPanel alternatives. This lightweight control panel comes packed with features that enable easy website management. The standout feature of DirectAdmin is its speed and efficiency, which makes it a preferred choice among users who handle large websites.
ZPanel is a free and open-source control panel perfect for users on a budget. Despite being free, ZPanel doesn't compromise on quality or functionality. It offers a comprehensive range of features, including database management, domain management, email management, and more, all from a user-friendly interface.
ISPConfig is another excellent open-source cPanel alternative. It offers many features, allowing you to manage one or multiple servers without hassle. Setting up websites and crafting email accounts has never been easier with ISPConfig – simplifying and streamlining the process!
Vesta Control Panel offers a clean and straightforward way to manage your website. It's a free and open-source control panel with features that make website management a breeze. With its simple user interface, even beginners can navigate the platform effortlessly.
Ajenti is a powerful yet lightweight cPanel alternative with a sleek and modern interface. It's an open-source control panel that includes a wide range of tools for server management. With Ajenti, you can easily manage multiple websites and perform complex tasks with just a few clicks.
Froxlor is a lightweight and open-source server management panel designed to simplify managing your website. It's a feature-rich platform offers tools for managing domains, FTP accounts, databases, and more. Moreover, Froxlor supports various PHP versions, making it a versatile option.
CentOS Web Panel is a free web hosting control panel that provides rich features for managing your website. It's a perfect choice for those who use the CentOS operating system. Its easy-to-use interface makes managing sites, domains, and email accounts hassle-free.
Virtualmin might be your best bet if you're looking for a robust and reliable cPanel alternative. It's a powerful, flexible web hosting control panel perfect for managing multiple virtual hosts. Virtualmin offers many features, including email management, database management, and much more.
To conclude, Cloudron is an excellent cPanel substitute, making managing and maintaining web applications much easier! It provides an intuitive dashboard where you can manage all your apps and websites in one place. Cloudron also includes automatic updates, backups, and a built-in email server, making it a comprehensive solution for your web hosting needs.
Conclusion
There you have it – the top 11 cPanel alternatives that are available for you to use for free. Each of these platforms offers a unique set of features and capabilities that make website management easier and more efficient. So, why stick to cPanel when you have so many great options? Try out these cPanel alternatives and find the one that best suits your needs. Remember, the goal is to manage your websites easily and effectively; these platforms are here to help you achieve that!