1. Amazon
Based in the United States and one of the largest online retailers globally, Amazon offers, other than various other categories such as books, electronics, home décor, bags and luggage, jewelry, etc., clothing and accessories to its customers. Products within this category have been segmented according to genders, such as men's and women's clothing and shoes; according to brands, such as Arrow, Chemistry, Manyavar, or United Colours of Benetton; according to types, such as t-shirts and tops, ethnic wear, pants, and trousers, or lingerie and innerwear; or even according to stores, such as of that belonging to a specific designer, and so on. The site offers a 30-day return on all its products within this category with 'no questions asked.'
2. Flipkart
Founded in 2007 by Sachin and Binny Bansal, Flipkart is an online megastore based in Bangalore, Karnataka. Other than the basic categories such as electronics, home, and furniture, books and media, etc., the portal offers two separate categories, namely 'men,' 'women,' and 'baby and kids,' which comprise all kinds of fashion products such as footwear, clothing, watches, accessories, bags and wallets, sunglasses, fragrances, and options in grooming and wellness merchandise. Flipkart also hosts a blog of the name 'Flipkart Fashion Files' where various authors contribute articles on global fashion news, trends, daily tips, etc.
READ MORE :
3. Snapdeal
Based in New Delhi and founded in 2010, Snapdeal is an online retailer that offers products in various categories ranging from Mobiles and tablets, electronics daily needs, sports and outdoors, or even real estate and financing. Within the fashion category, their merchandise is segmented into men's, women's, and kids' fashion, which are further divided according to the type of clothing or fashion product type. Snapdeal offers a variety of options within each fashion segment for both men and women, such as Ethnic wear, which consists of sarees& more, anarkalis, dress material, stitched and semi stitched salwar kurtas, salwars and churidars, and so on.
4. PayTM
Launched in 2010, Paytm is one of the newest online platforms competing with global giants such as Amazon and eBay. It has already been touted as a potential e-commerce giant, inviting large investments from major financiers. The firm began by providing services such as mobile recharging, bill payment, travel bookings. It later expanded to offer products within various categories such as home and kitchen, gifts and sweets, automotive, electronics, etc. In the fashion category, the firm offers men's, women's, and kid's products. It comprises different segments like clothing types like ethnic wear, types of accessories like watches or footwear, or types of products such as eyewear or luggage, etc.
5. eBay
eBay is an e-commerce giant based in the United States, facilitating sales between both 'consumers and businesses', and 'two businesses.' Founded in 1995 and one of the very few online retailers to survive the 'dot-com' bubble of the late '90s and early 21st century, eBay offers great deals in all kinds of categories such as mobiles and accessories, laptops and tablets, cameras, etc. The fashion segment provides products in women's and men's clothing, shoes, jewelry, baby and moms, t-shirts, and bags and luggage.
6. Jabong
Based in Gurgaon and founded in 2012, Jabong is an e-commerce platform that essentially offers fashion products in a range of categories like apparel, fashion accessories, beauty products, fragrances, home décor, etc. Since it is fundamentally a fashion portal, it offers a great variety of options for women, men, kids in accessories, brands, sports, and so on while also providing a separate section for sales, trending outfits, and even a fashion blog called 'The Juice.' It provides its customers with options that range from local brands and designers like Rohit Bal to high street fashion brands such as Dorothy Perkins, Wendell Rodricks, etc. Jabong has partnered with different agencies to facilitate its position as a leading fashion portal, such as the NBA in 2014 to launch the first online NBA store in India, or the Lakme Fashion week for the coming 4 seasons, and even launched an online fashion week in the year 2014, that featured celebrity mentors like Yami Gautam.
7. Myntra
Based in Bangalore, Karnataka Myntra was founded in 2007 with an initial concept of providing personalized gift items that later shifted to offering branded fashion products. Officially merging with Flipkart in 2014 to compete with other e-commerce giants, Myntra moved to an app-only business model to offer its customers a more focussed and service-centric experience. On the app itself, it offers all kinds of fashion options for men, women, and kids and features a home page that announces sales, the arrival of new items, or any such information.
8. Fashion and You
Founded in 2010, Fashion and You is an e-retailer that deals primarily with premium fashion brands and lifestyle products and offers exclusive, mega discounts on most of its products. It claims to be associated with more than 1500 Indian brands and more than 200 brands globally and aims to be the topmost style destination for all fashion enthusiasts. It offers high street fashion and lifestyle brands across clothing, accessories, cosmetics, jewelry, fragrances, footwear, etc.
9. Yebhi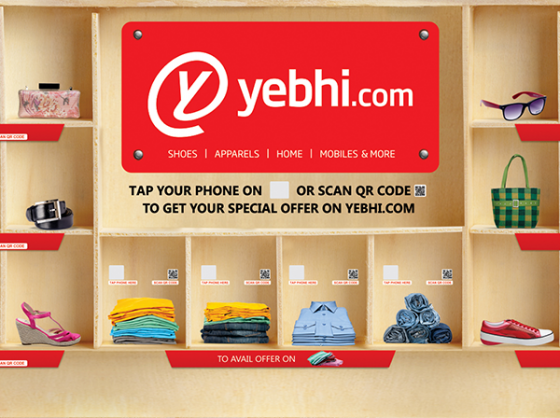 Launched in 2009, Yebhi is an Indian online shopping and services portal for lifestyle and fashion products. It offers categories like shoes, apparel, mobiles and tablets, eyewear, furnishing, etc.
10. Koovs
Headquartered in Gurgaon and founded in 2010, Koovs is an online fashion retailer that offers menswear, womenswear, jewelry, cosmetics, etc. It provides its customers with a separate section that deals exclusively with new discounts, trending lifestyles and also features collaborations between fashion giants and designers.