Traditional brunch dishes depend on pork products to satisfy meat lovers, but gorging on bacon or sausages every weekend can get boring. Don't make your meals monotonous—mix it up by switching the pork for delicious seafood! Seafood is as versatile as pork and can add an unexpected and tasty twist to brunch staples.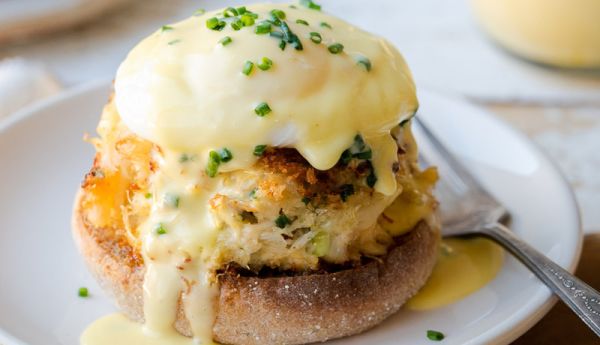 Eggs Benedict
Eggs benedict is an American brunch standard typically prepared with an English muffin topped with ham, poached eggs, and hollandaise sauce. To have an equally decadent meal, trade the sliced ham for fresh lobster! Follow Boston's Best Lobster Eggs Benedict Recipe from Lobsteranywhere.com to make an impressive meal with homemade hollandaise sauce. The website can also help you order fresh local lobster from the trap to your table. Pair your lobster eggs benedict with crispy home fries, steamed asparagus, and piping hot coffee to turn your brunch into a fantastic feast.
Crab Cakes
Twist your traditional breakfast fry-up by replacing sausage rounds with hot and crispy crab cakes. Find a crab cake recipe to see what flavors to add to the crab meat, like lemon, cayenne pepper, or Worcestershire Sauce. Make patties with the crab meat, lightly coat in flour, and fry in hot oil in an iron skillet until both sides are golden brown. Pair your crab cakes with traditional fry-up fare like buttered toast, hash browns, and eggs sunny-side up.
Bagel and Lox
A bagel with lox is best for the seafood-lover who doesn't want to spend their morning beside a hot stove. A bagel with lox is a quick and easy meal to throw together for a solo meal or a large group. If you have lots of company, you can set up a whole spread for guests to assemble their bagels just how they like it.
The brunch option requires minimal effort for simple tasks like shopping, chopping, and table setting. Buy an assortment of fresh bagels from a bakery if you can—if not, grab some from your local grocery store in the flavors you like. Set out various toppings: slices of cucumber, radish, red onion; capers; and chopped dill. Ensure there is a lot of thick cream cheese spread, so guests don't feel limited in how much they can put on their bagels. Of course, the centerpiece of your table setting should be a plate of smoked or cured salmon with lemon wedges on the side for squeezing.
There are plenty of recipes out there that use seafood as an alternative to the brunch basics. Instead of cooking with bacon and ham, step outside the box and make a luxurious lobster eggs benedict or a tasty crab cake fry-up. If you want to spend less time cooking and more time eating, break out some bagels and lox for your friends. Embrace the versatility of seafood and bring some excitement back to brunch!