We all agree that getting the correct makeup for ladies with olive skin tones can be a significant challenge. Well, we have something to make you proud of your olive-skin-toned body for all those cute olive ladies.
Are you ready, ladies? You can apply the most stunning hues that match your rich skin color. Let's start our journey here with the top makeup ideas for ladies with olive skin.
Select the Correct Foundation Colour
Ladies, here is this; even if you have a gorgeous skin tone, you need to choose a foundation that matches well. Olive tones are unique and different, so you should ensure that you select a hue that will make your skin tone glow. Choosing the perfect foundation shade is a great makeup tip for ladies with an olive skin tone that many of you overlook.
Choose the Correct Concealer
This is the second thing to do after choosing the correct foundation. The right concealer is meant to hide those dark spots and blemishes.
Select the Best Blush Colour
Ladies with olive skin tone will approve that finding the right brush to complement your skin is a significant challenge. For this matter, opt for darker pinks, browns, or deeper pinks. These colors flash your whole face making your skin unique in the right manner.
Utilize the Highlighter Powder
Highlighting powder is an excellent way to accentuate those elegant curves of your facial features. Just apply some highlighting powder on the cheeks and see how desirable the results will be.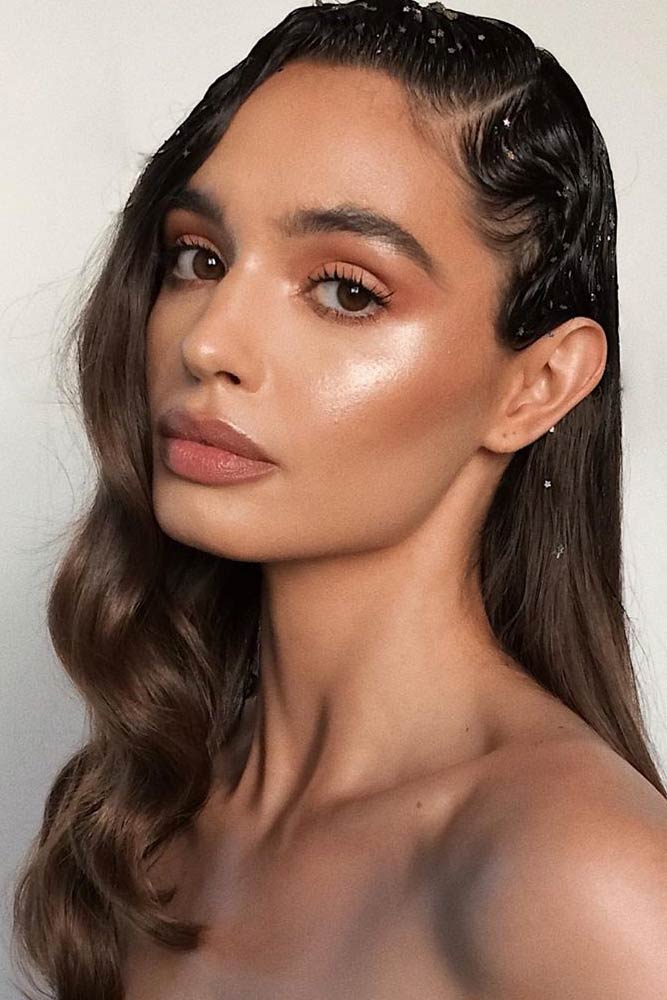 No Bronzer
So lovelies, it is a blessing to have your skin type. You have the skin tone many people hope they have, so why do you want to add more tan? One of the best makeup ideas for your skin type is that you should wear no bronzer at all.
Keep Off Pinks
We just said that pinks aren't ideal for the blush. So, you should avoid the pinks and choose deeper browns, greens, or even some hints of blues for your makeup on the eyes. Believe me or not, the color ideas for olive skin tones will make your eyes wow.
Mascara and Darker Eyeliner
Black mascara and darker eyeliner are all excellent ways to make your sexy eyes pop and a pretty way to showcase the tan skin you are blessed with.
Maintain Your Simple Lips
Finally, keeping your lips natural and simple is a great way to maintain the look of your beautiful skin. That way, you allow your skin to shout for you.
Emphasize the Eyes
Putting black mascara and eyeliner is not all you need to do for the eyes. Get olive, silver, brown, or bronze eyeshades to match the skin tone and give a glow to your beautiful eyes.