On a couple's wedding day, a multitude of thoughts and emotions are present. The bride and groom are dreaming of a life filled with happiness, love, and prosperity. The one thing no couple ever thinks about is divorce. However, despite your best intentions, divorce is always a possibility. Up to 50 percent of couples eventually get divorced. If you're a part of this statistic, moving on after divorce can seem impossible.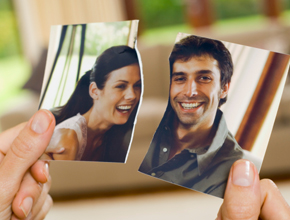 While divorce is a highly personal thing – and different individuals deal with the results in unique ways – there are a number of things you can do to thrive after your marriage comes to an end.
1. Don't Struggle Alone
The first few weeks or months after a divorce are always the hardest. This is especially true if you've been married for a long period of time. Often, the mere act of living by yourself is enough to ignite feelings of anxiety and depression. The key to overcoming these struggles is to surround yourself with the right people and resources.
Begin by reading about divorce and understanding just how common it is. This will help you feel less alone. Then, armed with this knowledge, find other divorcees in your local community who can provide you with encouragement and comfort. You should never struggle alone.
2. Let Yourself Mourn
While you don't want to struggle alone, you also shouldn't be afraid to mourn for a brief period of time. Mourning after divorce is healthy. It's a part of the healing process and allows you to move through the different stages of recovery. Bottling up your feelings and refusing to properly mourn can actually have negative effects on future relationships down the road.
3. Accept the Economic Reality
In almost every case, divorce adversely affects the economic status of both individuals. Income that was designed to sustain one household now has to be spread out to support two households. And while this means changes must occur, it doesn't mean you're going to be poor or homeless. Accept the economic reality that's in play and develop a concrete and strategic plan for the future.
4. Stop Focusing on Your Ex
As hard as you may try, you cannot change your ex. Whatever small amount of influence you may have had on your ex when you were married is now gone. You have literally no control over what they say and do. The sooner you grasp this concept, the happier you'll be.
As Buddy Hackett famously said, "I never hold a grudge, because while I'm being angry, the other person is out dancing." Stop focusing on your ex and worry about your own problems.
5. Develop New Passions and Interests
There's a certain level of freedom that comes with being single again. Take this opportunity to rediscover who you really are. Find new passions and develop unique interests. As you gradually develop a new life for yourself, you'll begin to focus less on your previous life. This is healthy for everyone.
6. Put the Children First
If you have kids with your ex, then there's a whole different dynamic in play. In order to make your family work, there needs to be a concerted effort to make things successful. This is especially true when you get remarried and blend multiple families together. Anticipate these issues and challenges and work hard to make this process as smooth and comfortable as possible.
Divorce Doesn't Define You
Divorce is rarely easy. There's a mixture of sadness, anger, bitterness, anxiety, and fear of the unknown. And while these emotions can take hold over your life, you can't let divorce define you. You're an individual, not a divorcee. Keep these tips in mind and learn to become a better 'you' after your divorce.