Imagine being able to wear your sweatpants all through the day without having to worry that people are judging your sense of fashion; wouldn't that make the world a perfect place? Well, if sported correctly and confidently you might just be able to wear those comfortable sweat pants all throughout the day. Here's a list of things you must do if you plan on wearing your sweatpants comfortably still fashionably.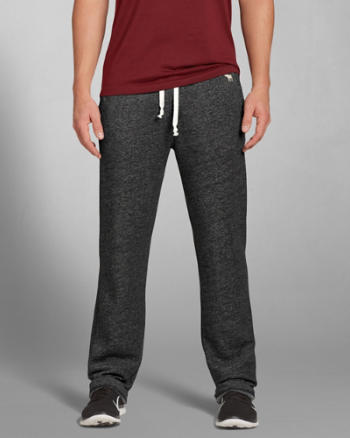 1) Find a Perfect Fit
As comfortable as your sweatpants may be, you need to find a pair that flatters your body. Even though sweatpants have an elastic waist, you need to sport a pair that accentuates your calves and presents your body stylishly. So to prevent looking like a big tent, make sure you get yourself a nice fitted pair of sweatpants. There are several websites like that sell trendy and fitting sweatpants, you can find a pair that suits your style on such portals.
2) Wear a Clean Pair
Just because you're wearing sweatpants that does not mean you need to look shabby and unkempt. Wearing a pair of sweatpants that have coffee or food stains on it is highly unappealing. If you want to look comfortable yet trendy, wear a pair of sweatpants that are immaculately clean. By wearing a pair that has countless stains on them you are only proving to the world how lazy you truly are. Shock and impress them instead by wearing a clean and fitted pair of sweatpants.
3) Wear a Matching Outfit
As comfortable and snug as sweatpants may be that does not mean you wear them mismatched. If you wish to look fashionable and trendy while sporting those sweatpants you need to wear a nice matching t shirt and savvy shoes that makes the entire ensemble look comfortable yet chic.
4) Add Some Accessories
From trendy shoes to funky hair accessories you can spice up those boring sweatpants with these products. Sweatpants look great with sneakers and smart slip-ons. This is the real secret of looking trendy and fashionable with your sweatpants, even when you're wearing them on your weekend boys' outings.
5) Sport Them With Confidence
Confidence is the key ingredient to looking stylish and chic. If you look embarrassed and ashamed about wearing sweatpants out in public, people are going to notice. On the other hand if you walk with your head held high, a confident strut and all your fashionable accessories, you are going to make heads turn.
6) Enjoy Wearing Them
Wearing your sweatpants out in public is a one off treat and not something you can do regularly. So, appreciate and enjoy wearing them on a day that you do. Make the most of the experience and indulge in the comfort of your attire.
On those occasional days when you're going as comfort personified, it's best you ensure that you do it right. So along with those perfectly fitted sweatpants, remember to accessorise, and most importantly don't forget to carry yourself with confidence.