A career in the fashion industry sounds glamorous and lucrative. Have you considered entering the fashion industry but might think you cannot manage it? There are so many different roles and positions that you can play in the fashion world. One does not necessarily be a fashion designer but can still have a successful career in the fashion industry.
Being able to make a living with things you like is always enjoyable. If you are a fashion fan and love to see beautiful clothing, accessories, or sketches around you, you should consider starting a career in the fashion world. Below are some key roles in the fashion world where you can participate in design, production, marketing, and more.
Designing
This is one of the most high-profile jobs in the fashion industry. Designers are responsible for conceptualizing their ideas on trends and realizing them in their final products. Designers can be employed by companies that own a group of designers working for their brand and product line or as freelancers providing designs for different companies.
READ MORE :
There are several types of fashion designers:
1. Apparel designers: Obviously, these are clothing designers, ranging from lingerie, sportswear, and casual wear to high fashion couture for men, women, and kids.
2. Footwear designers: They design footwear for men, women, and kids from a style and foot health perspective.
3. Accessory designers: Accessories have a broad definition – from handbags, hats, and eyewear to gloves, scarves, and jewelry.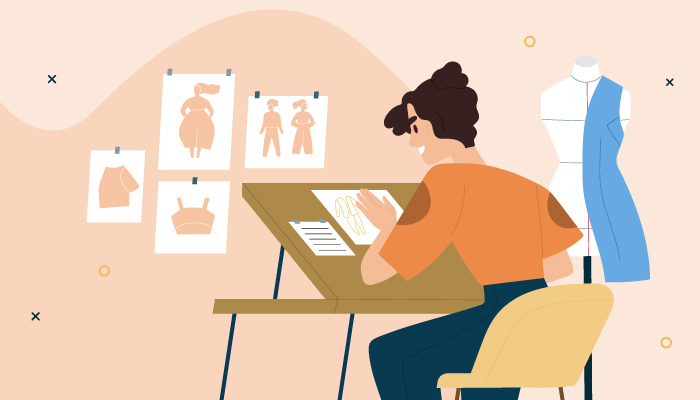 Production
Production involves collecting garments and accessories until the final pieces are delivered to shops and customers. This massive work consists of a team of various professionals:
1. Merchandiser: Merchandisers play a key role in the production process of a fashion product. They are responsible for buying raw materials for production and selecting fabric, textiles, and trims. They must decide based on pricing, quality, and the latest trends and innovations in raw materials.
2. Technical Designers: Technical designers are responsible for doing fittings during the whole sampling to production procedure. They might not be the ones who designed the garment, but they are the experts in providing an alternative to the garment to improve its fitting.
3. Pattern Makers: Pattern is the basis for sewing a garment. Pattern makers produce and maintain patterns for garments that designers have sketched out. Pattern makers are key persons in the realization of a garment.
4. Pattern Graders: The garment sizing starts with the pattern grading. Pattern graders are experts in creating size specifications for different sizes. They are vital for any fashion brand, as consistent product sizing can maintain customer loyalty and confidence.
5. Fitting Models: Ultimately, garments and footwear are made to combine comfort and style. Fitting is a crucial part of the fashion industry, and the most precise fitting is to use the model as the body for fitting.
Many companies have dedicated models for fitting their lines, which have the exact measurement the brand requires. Sometimes, you see ads looking for sampling models, from kids, men, and women to plus-size models.
6. Quality Control Specialists: Quality control is important for any product and is no exception in the fashion industry. Quality control specialists look at the quality of raw materials, like peeling, shrinking, and color fading of textiles, and the overall quality of a fashion item, for instance, the overall assembling of an accessory item.
7. Planners: Fashion planners coordinate closely with designers, merchandisers, and buyers to decide the coming seasons' production plan. They look at the production and marketing sides while paying close attention to the latest fashion trends.
Marketing
Marketing is as important as making a perfect piece of fashion item. Whether it's marketing on a wholesale or retail side, people in fashion marketing have the mission of promoting the fashion item in this fast-changing world.
1. Fashion Buyer/ Retail Merchandisers: Product merchandisers are the ones who buy ready-made products to be sold in a shop like department stores. These merchandisers research and analyze market trends, the relative customer wants, and stocks. They bear a huge responsibility for profit-making since having the eye to buy the right product for sales can make a difference in revenue.
2. Showroom Sales Specialists: Some brands own their showrooms, displaying their collections for fashion buyers (wholesalers) to make their orders. Compared with retail sales, showroom sales specialists should know their seasonal returning customers better and be able to provide detailed information on the selling collections.
3. Retail Store Manager/ Boutique Owners: Retail shop managers, sales, and boutique owners are the first line personnel facing retail customers like you and me.
Besides, in designing, producing, or marketing a fashion item, one might be attracted by other positions like a writer of a fashion magazine, online blogs, fashion event management, etc. Below is a list highlighting the other possible jobs related to the fashion industry:
1. Fashion Writers: Writers or freelance writers can write for magazines, online blogs, or sites on reviews, trends, and recommendations. Fashion writers can also develop into fashion magazine editors.
2. Personal Stylists: Some department stores provide personal styling services, while some private customers would employ personal stylists, giving them recommendations in unique styling.
3. Fashion event Management/ Public Relations: Nameless fashion events require professional public relations and event management personnel to take care of. There are PR companies specialized in holding fashion-related events.