The best thing about a culinary tour is that you can experience the local culture through its culinary feats, being guided by professionals. There are thousands of terrific locations with rich, diverse dishes to try, but the difficulty lies in deciding which one to pick. So here are our top 8 culinary tours to help you choose.
1. The Dolomites: Whole Journeys
If you're out of excuses to visit Italy, here's the perfect one. The Dolomite Mountains offer a majestic landscape with abrupt cliffs, pastoral regions, rural villages, and all that can work up an appetite. There are plenty of enticing foods to experience, such as gnocchi and pizza, but you can also get an aromatic cup of wine to accompany all that. This hearty food will keep your stomach full after hiking or sightseeing, with all the amazing vistas you can pick from.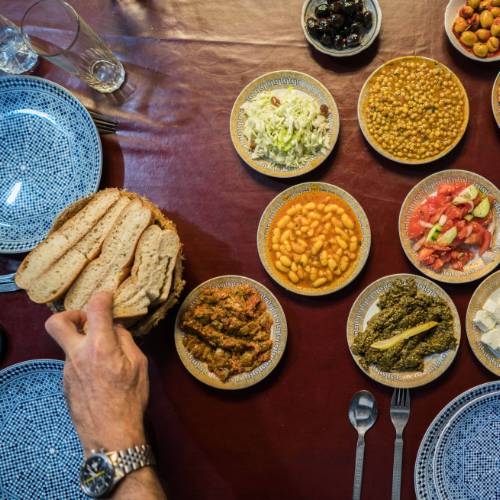 2. Chateau de la Barge: Let's Go, Cook
From the abrupt landscape of northern Italy, we can hop off to a more gentle landscape offered by the region of Burgundy. Home to the famous Burgundy wine, you can experience other culinary delights in this medieval castle converted into a hotel. You can enjoy a bœuf Bourguignon for the main course and pamper your palate with a dish of Crêpe Suzette, the delicious pancakes.
With so many wines and cheese varieties, this is a great location for oenophile cheese lovers. But you'll also visit the nearby rustic villages and monasteries to round up your trip.
3. Beijing: Intrepid Travel
Intrepid Travel will take you through the alleys of hectic Beijing in search of the most delicious street food. But if you don't want to get lost, you'll need one of the best outdoor watches because China is renowned for its specially designated streets for outdoor eating, and Beijing offers many such pleasures.
RELATED ARTICLES :
You can try the Peking Duck, for instance, which is the representative dish. Plenty of reptiles, octopuses, and frogs are turned into culinary masterpieces if you want to try something more exotic. But that's not all you can find in this area, as the tour will take you to important landmarks, such as the Forbidden City, Tiananmen Square, and the Great Wall.
4. Marrakesh: Gourmet on Tour
Morocco is an interesting country with a rich history and compelling landscapes if you're into hiking. But if you want to discover a new side of Morocco, you can spend time in a Berber tent, learning how to make signature dishes. Moroccan cuisine is spicy and sweet, with various influences that comprise delicious meals.
You can enjoy a delicious combination of caramelized fennel with onions or bread made on the ground. The Berbers are renowned for their one-of-a-kind baked goods prepared in an outdoor mini-oven obtained by digging a small hole in the dirt.
5. Cuba: Access Trips
With its enticing culinary successes and traditional dishes, Cuba has much to offer to foodies worldwide. Having Mediterranean influences, you'll experience different goodies, like seafood and lasagna, but you can also enjoy the world-renowned Cuban sandwich.
Since Cuban cuisine has many notable influences from Spain, Africa, China, and the Caribbean, you'll enjoy the spiciest, most favored dishes imaginable. You can try a very tender Mojo-Marinated Pork Shoulder Roast, which makes a great meal thanks to the unique sauce. And afterward, there's nothing like a traditional Cuba Libre or a glass of Daiquiri to end the day.
6. Kenai Peninsula: Within the Wild
You can start with the Kenai Peninsula if you want to learn more about Alaska by experiencing its culinary feats. This is the perfect place to try seafood, starting with delicious salmon or various seaweeds. You'll have plenty of oysters available, as well as wild berries for that sweet-sour taste.
This tour allows you to visit many prominent food-related places, like a bivalve farm or a spruce tree forest. You can also learn how to prepare various dishes at the Tutka Bay Lodge. National Geographic even discussed This culinary retreat at length, giving it the title of Unique Lodge of the World, so you'll know you've come to the right place.
7. Georgia: MIR Corporation
Embark on an unforgettable tour that offers an unparalleled journey through a foodie's heaven. You'll set camp right at the base of the Caucasus mountains, so there are plenty of hiking opportunities to raise an appetite. You'll enjoy nutritious meals, like the local khachapuri, a cheese-filled bread, so that you won't feel hungry for hours.
But apart from the heart-warming, stomach-filling foods, you can also taste Kakheti's wonderful, elegant, and fragrant wines. This picturesque region is renowned for its local wines, and you'll wander through a stupendous vineyard landscape.
8. Lisbon: Culinary Backstreets
You can try many unique dishes in Lisbon besides eating the best seafood. Portuguese cuisine is nutritious and satisfying, offering fatty deliciousness, proteins, and plenty of sweets. And olive oil is one of the key ingredients, especially in dishes like Polvo à lagareiro. This is octopus tentacles roasted in olive oil, garlic, and boiled potatoes.
Or you can try Algeria, a chicken-based dish disguised as pork sausages. This dish was invented by the 16th-century Portuguese Jewish people hiding from the Inquisition and decorated their homes with these sausages so they wouldn't be suspected.
What's your pleasure?
We've tackled eight amazing food tours you can embark on so you can delve into a carousel of culinary experiences. From the more elegant France cuisine to the hearty Portuguese experience or the earthy flavors of Morocco, we've got it all. So what tour will you choose and why? Have you gone on such a trip before? Let us know all about that in the comments below!